BEWARE... there is a copy of my obsolete GTX-II / GTX-III being sold in the US, Canada, Brazil and the UK. Don't be deceived by poor imitations.
REPLACE YOUR GAMO PLASTIC TRIGGER WITH The New GRT-4G Trigger Blade
IT IS NOW AVAILABLE... INTRODUCING THE GRT-4G
The trigger that everyone who owns a late model Gamo has been waiting for. The GRT-4G(amo) trigger blade upgrade for those new Gamo's rifles using the plastic triggers. Click here to learn all about it
ALSO AVAILABLE ARE The New Benjiman NP2 - THE CROSMAN NPSS - BENJI TRAIL NP and REMINGTON NP TRIGGERS TAKE A LOOK HERE
To see the complete installation video play list by Bert Wolf (Brutuz62) for the GRT-III and GRT-4G triggers, Click Here.
Regarding my retirement....read below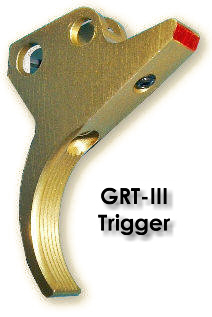 I HAVE RETIRED FROM TUNING AND REPAIR. Effective March 2009
I have not retired from the GRT trigger business.
My retirement will not effect the GRT trigger sales. The GRT trigger blades and CBR triggers will still be available with the same quality of service as in the past.
I retired from the Airgun Tuning business all together three years ago. I no longer have any parts or machine tools for tuning. I had retired 3 times in the past and it didn't last long so this time I sold the tools and parts to make sure that I stayed retired. I am still selling the GRT triggers.
Thanks to all of you for your support and tuning and all other business throughout the years.