BEWARE... there is a copy of my obsolete GTX-II / GTX-III being sold in Brazil, UK, Canada and the US. Don't be deceived by poor imitations.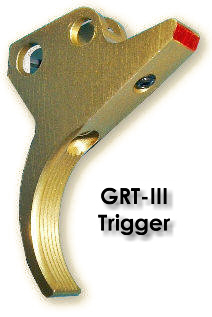 "The best and only GRT original Gamo-Theoben replacement trigger in the world. It's not just a trigger mod. Nothing, absolutely nothing else compares to it."
Did you know that trigger pull and trigger ergonomics is one of the greatest contributors to accuracy and consistency See below for applications.
Info Installation of GRT III Trigger
GRT-III Applications
And just what will the GRT-III trigger blade fit
See the notice below regarding the late production Gamo's with a plastic trigger
The GRT-III trigger blade will fit almost any rifle using the Gamo/Theoben type trigger including:
GAMO

All early model rifles including any not listed here. (See note below)
Gamo Hunter all (including the 1250)
Gamo Shadow (all)
Shadow Express
Hunter Elite
Hunter Sport
Hunter Pro
Gamo Delta
Gamo CF-20
Gamo Nitro (all)
Gamo Recon (all)
Gamo 610
Gamo 640
Gamo CFX
Gamo Maxima
Gamo Viper (all)
Carbine Sport
Gamo Big Cat
Gamo Whisper


BENJAMIN
(see notice below regarding Benjamin Trail guns)

Benjamin Classic .22
SuperStreak
Classic .22 BNS-AR-004
Trail NP Series (all)
Trail NP-XL **
Powermaster 1500 EP
Powermaster 1500 TM
Powermaster 1500 BTM
Powermaster
B1500EP-NP
Regal NP
BS8M22XNP


Cabela's


Outfitter Series (all)


CROSMAN


TAC1
Quest 800
Quest 1000
Optimus
Phantom*
Sierra Pro
Storm
Raven (early only)
G-1 Extreme
Tac 1
TAC 1 Extreme
Titan
Titan GP
Titan NP
TR77
Crosman Nitro Venom
Crosman Nitro Venom Dusk
Fury


DAISY


Daisy 130A (Spain models only)** see note
Daisy 130B (Spain models only)
Daisy 131(Spain)
Daisy Model 1000 (Spain)


BSA


BSA Comet
BSA Meteor MK-6
BSA Meteor MK7


KRAL


Kral Demon
Kral Magnum
Kral Concorde


REMINGTON


Remington Genesis *
Remington Summit *
Remington Vantage*



STOEGER

StoegerX-10*** see note
StoegerX-20 *** see note
StoegerX-50 *** see note


MISC

Accu Airforce 1100
Accu-Air Vapor 1100
AirForce One Hercules
B-18/19's
Beeman S-1
(Early Spain read below)

MAUSER SR
Perfecta 55
Rapid MK-1 (pre-2013 models)
SMK-18
SMK-19

TechForce-25
TF 58 model** see note
TF 59 model** see note

QB-23 ** see note
QB-88 ** see note

SMK-XS 18-19
Swiss Arms SA2

Hammerli 550

NOTE... I DO NOT MAKE TRIGGERS FOR ANY PISTOLS
WHAT TRIGGER SHOULD I ORDER
The GRT-III trigger will also fit many guns not listed above. To determine if the GRT-III trigger will work in your gun, compare it to the pictures suggested in the link below.
GRT-III GRT-4G CBR If you are in doubt about which trigger to order, click HERE and compare your trigger to the pics to be sure.
Notice regarding the Benjamin Trail models.
There has been a change in some of the BenjaminTrail model triggers.
Before you order the GRT-III for the Benji Trail models READ THIS.
NOTE FOR GAMO OWNERS: If you have a late model Gamo with a plastic trigger and safety, the GRT-III trigger will not work. If in doubt, check it with a magnet. If it is plastic, click here.
NOTE: * FOR REMINGTON GENESIS-SUMMIT-VANTAGE OWNERS(and some Crosman's). If your gun has a plastic trigger, the GRT-III trigger will not work. If in doubt, check it with a magnet. If it is plastic do not order the GRT-III. Click here to see Crosman NPSS.
NOTE: ** For these four models only. The QB-23, QB-88, TF 58, TF-59 and Daisy 130A require a special replacement fat pin as part of the installation and are supplied with the GRT-III at no charge. Be sure to inform me by e-mail me when ordering triggers for these models.
NOTE: *** Stoeger X-10, X20 and X-50 see the special instructions and to see the instruction video, click HERE
Benjaman Trail NP XL owners....before you order
The GRT-III may not properly adjust in some Benjaman Trail NP XL guns as well as the Crosman Titan and a few others......DO NOT ORDER THE GRT-III FOR THE TRAIL NP XL UNTIL YOU READ THIS
The GRT-III trigger will not work in any of the RWS, Walther, Webley or most air guns not listed above. Also, it will not work in the late Gamo CFX with the plastic trigger
If your gun has a trigger similar to the B-18/19's or the Gamo's, there is an excellent chance that the GRT-III will work in your gun.
Every GRT-III trigger blade that is sold is completely assembled, tested and pre-adjusted in a Gamo trigger for the customer and all you need to do is drop it in on most guns. Installation instructions are provided. It's a very simple operation requiring a couple of screwdrivers and about 15 minutes or less for most people.
Take a look at the simple installation procedure, a PDF file courtesy of Chuck Adams
To see the complete installation video play list by Bert Wolf (Brutuz62) for the GRT-III and GRT-4G triggers, Click Here
Keep in mind that the installation videos are only supplemental to the written instructions and do not take the place of the written instructions.
Why The GRT-III
What does the GRT-III trigger blade do
The GRT-III trigger blade changes the internal geometry as well as the ergonomics of the original Gamo/Theoben type trigger and converts it from an allegedly 2-stage trigger to a true 2-stage trigger geometry while at the same time dramatically reducing the pull weight and not compromise the safety of the trigger. The ergonomic design change greatly enhances the trigger with a far more controlled trigger pull. Together they provide more accuracy, consistency and a vastly improved firing cycle, something that trigger mods cannot do. It's a matter of what you expect for what you pay for, and with the GRT-III trigger blade you get it all.
What is the GRT trigger blade made of
The GRT-III trigger blade is Gold Anodized aluminum and will adapt to almost all Gamo's and Gamo clones and in most cases with no modification needed by the owner. (There may be a few exceptions).
Although the components of the GRT-III trigger blade mod are not under heavy stress, their ability to hold a precision adjustment over a long period of time is critical to delivering the long term enhancement to accurate shooting that you paid for. It's for this reason that the GRT-III trigger blade is CNC (Computer Numerically Controlled) machine fabricated from high grade aluminum alloy known for its strength. The blade is then anodized for wear and corrosion resistance
In the OEM Gamo, Chinese and Theoben Gamo-type triggers, the "1st stage" is nothing more than pre-travel, and is not a true first stage, as the trigger blade is doing nothing more than moving against the resistance of the blade return spring. Nothing is actually happening until what most believe is the "2nd stage pull begins. With the GRT-III trigger, all of the travel of the blade does useful work.
We have sold well over a thousand GRT-III trigger blades to satisfied customers. Why do they buy Because they are replacing the problem with a genuine fix, the complete trigger blade itself. They do this rather than attempting a less expensive trigger mod to rig or work around the true existing problem with mediocre or second rate repair. The GRT-III trigger blade resolves all of the trigger problems and not just reducing trigger pull. That and the superior beauty, quality, workmanship, it's safe and the fact that it works and that it has a long past with a long proven track record the world over.
But it's not just the improved trigger pull that makes the GRT-III trigger so great. Just as important and even more so, are ergonomics of the trigger. It's what makes the big difference in the improvement of both accuracy and consistency. There are a couple of guys out there that market OEM trigger insert mods that will say that ergonomics doesn't matter.... but......, those that have owned both the trigger mods and the GRT-III trigger blade know the difference and given the choice, will choose the GRT-III trigger every time.
Be aware. As with almost all other successful products, there will always be someone attempting to come up with a better or cheaper idea that will undoubtedly prove to be inferior or substandard and perhaps even in some cases, dangerous. None of these will match the class, superiority and efficiency of the GRT-III trigger blade. There is nothing as a replacement part or mod that is even close to being comparable to it.
To see a sampling of what our customers have to say, Click here..
Installing the GRT-III trigger blade.
Unlike trigger mods, installing the GRT-III trigger blade is a very simple procedure and does not require removing the trigger from the gun. The GRT-III trigger is truly a drop in trigger. It can usually be done in ten minutes or less and requires a Phillips head screwdriver (or a #25 Torx screw driver in many Gamo's) and a small standard blade screwdriver in most cases and an Allen key that is provided.
It is not usually necessary to remove the trigger assembly from the gun to install the mod and is shown here for better visual understanding. The top right picture depicts what the original trigger blade looks like when removed with the parts shown directly under where they go, and the right picture depicts the trigger blade and mod parts and where they are located. The trigger, trigger return spring and its retaining pin are not reinstalled for the modification, but be sure to save for later use if desired.
Note-Note-Note
It is very important to read the instruction that comes with the GRT-III in their entirety before installation. Be very careful not to remove the wrong trigger pivot pins. The pins are pointed out in the instructions that you will receive when ordered.
Note-Note-Note
The Gamo CFX and some of the other late model guns with synthetic stocks have the forestock retaining screws covered by the rubber hand pads/grips located on each side of the forestock. These pads must be removed to get to the screws. Removing them is very simple. Insert a small blade screw driver or something similar under the rear center of the pad/grip and carefully lift enough to get your fingers under enough to pop it off. They are held in place by rubber buttons and pop into the stock. To reinstall them, just press them back in. Remove the screws that are used in most CFXs (and some other Gamos) with a #25 Torx screwdriver.
Trigger troubleshooting guide and abnormalities that are rare but may be encountered. Click here.
AND... I've saved the best part for last:
Because of the additional setup and machining stage's the production costs have risen. The overall production costs have more than doubled.... however.... the original selling price for the GRT-III trigger blade has been reduced by nearly 20%. Yep...you read it right, about 20% less than it's predecessor.
Originally it sold for $35.00 plus $2.50 S&H for a total of $37.50.
It now sells for $29.50 SAVE $5.50 plus $3.50 S&H for a total of $33.00.
So there you have it. I'm looking forward to being of service to you.